Investment Banking
THE POWER OF PARTNERSHIP
At D.A. Davidson, we are committed to collaboration, and strongly encourage projects that bring together multiple professionals and business areas to work as teams. John Decker leads an effort to grow D.A. Davidson's collaborative presence in Wealth Management and Investment Banking in the Midwest and beyond, the results of which have produced a number of successful M&A engagements and capital financings.
Our investment banking division is a leading full-service investment bank that offers comprehensive financial advisory and capital markets expertise. The group has extensive transaction experience serving middle market clients worldwide across five industry verticals: consumer, diversified industrials, financial institutions, real estate and technology.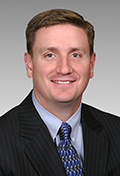 John Decker
Senior Vice President, MD Investment Banking & Co-Director of Nebraska Branches
Lincoln Wealth Management
A native of Lincoln, Nebraska, John joined SMITH HAYES Financial Services Corporation in 1996 as an intern and later became VP of Public & Corporate Finance from 1999-2002. In May 2002, he joined Douglas Theatre Company as CFO to embark on a strategy to expand and update the theatre circuit and prepare it for sale. John remained in that position until successfully completing the sale transaction to the Marcus Corporation (NYSE: MCS) in April 2008. He rejoined SMITH HAYES in May 2008 as Executive VP and Director. While serving in that role, John led sales force growth and improvement initiatives, ultimately achieving record asset growth, gross revenue and profitability. In 2013, he accepted the position of President & CEO of SMITH HAYES, and was responsible for leading the day-to-day activities of the firm. In 2016, John organized and managed the merger of SMITH HAYES with D.A. Davidson (both ESOP firms), a transaction which resulted in a successful combination of strengths and an expanded level of services for the firm's clients.
John graduated from the University of Nebraska with a Bachelor of Science degree in Business Administration with an emphasis in Economics in 1998 and completed an MBA with high distinction in 1999. He is currently on the board of directors of Hampton Enterprises, Inc. and Bryan Health. He enjoys spending time outdoors with his wife, Tammy, and their children, Taylee and Jackson.