Fixed Income
COMMITTED TO ENRICHING THE LIVES OF NEBRASKANS
The Fixed Income Capital Markets group of D.A. Davidson is a national leader in raising capital through fixed income banking, distribution and depository strategy. Consistently ranked among the top advisory firms in the country, the group serves clients including banks, credit unions, insurance companies, bond managers, money managers and trust companies.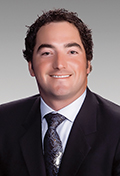 Paul Greiger
Managing Director, Public Finance Banker
Omaha Fixed Income Capital Markets
Paul Grieger joined D.A. Davidson & Co. in 2005 with the acquisition of Kirkpatrick Pettis. Paul works with municipal issuers throughout the State of Nebraska. Paul has previously served on the advisory board of D.A. Davidson & Co. and currently serves as Managing Director of Public Finance. Paul holds a bachelor's degree in business administration from the University of Nebraska – Lincoln.